Feeling nature's breath and being grateful for natural processes,
we dye the clothes using only materials acquired from natural resources.

Over a hundred years ago, a lot of foreigners had been impressed and amazed by the color of natural indigo.
They called it "Japan Blue".
We really want to spread this beauty to all over the world from here, Ome-the west of Tokyo.

We have been strictly maintaining the traditional dyeing method and give some beauty in our daily life. We are very proud of these our job.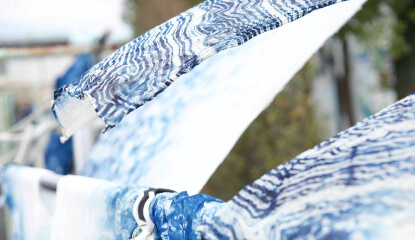 address

Nagabuchi 8-200, Ome-city, Tokyo, Japan 198-0052
open

10:00 - 18:00 (Closed on Tuesdays)
by public transport

from OME station
Walk:25min. / Taxi:5min.
Bus(青20・青21) to Kami-nagabuchi BS:5min. & Walk:5min.
by car

About 20 minutes from Hinode IC in Ken-o Expressway.

tel

0428-24-8121

Email

mail@kosoen-tennenai.com